Alcohol accounted for over 4% of all global new cases of cancer in 2020 – more than 740,000 new cases a year. At World Cancer Research Fund International, we have a clear recommendation around cancer and alcohol, given its links with 7 types of cancer – limit alcohol consumption, and, for cancer prevention, it's best not to drink alcohol.  
Over the past few years, we've increasingly engaged in alcohol policy on an ad hoc basis, especially at the World Health Organization (WHO). However, we're now looking at how we can expand our policy portfolio to match our engagement in our well-established areas of nutrition and physical activity, and encompass our alcohol Recommendation. 
Navigating the international alcohol policy landscape
We've been familiarising ourselves with significant WHO alcohol initiatives and targets implemented over the past decade. We see similar focus areas of marketing – pricing and availability, and fiscal measures in nutrition policy – so can draw on our experiences from working in these areas.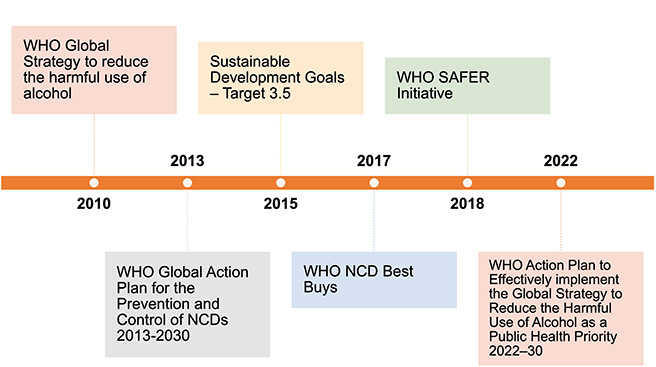 This year saw the introduction of the WHO action plan to implement the Global Alcohol strategy to drive and coordinate more member state action on alcohol control in the face of a lack of progress, and we'll be following developments closely. There are also regional developments such as the recently approved European framework for action on alcohol, 2022–2025 – which we fed in to – which includes areas such as pricing, taxation, marketing and health information in the form of labelling.  
Challenges of designing and implementing alcohol policy
There is a range of challenges to regulating alcohol consumption: some unique and some similar to other health-harming industries. 
The phrase "harmful use of alcohol" suggests there is a harmless level of use – which from a cancer perspective isn't true. We prefer the terms "alcohol use or consumption". Furthermore, the phrase "responsible drinking" puts alcohol consumption directly in the seat of the individual and ignores factors such as aggressive marketing tactics. It also fails to acknowledge that harms exist all along the continuum of alcohol consumption, even in small amounts.  
There are many mixed messages about the health benefits and harms of alcohol consumption, often driven by the media and the alcohol industry. There is also strong social acceptability of alcohol in many countries, which, coupled with industry interference, breeds policy inertia.   
We need to understand more about the rise of low- and no-alcohol beverages, specifically the impact of consumption and any necessary policy response. For instance, countries use different definitions and thresholds to define low and zero alcohol products, which throws up challenges in designing policy measures.  
Lastly, the alcohol industry is involved in policymaking, which we strongly oppose. There is a lack of consensus by member states at WHO level on how to work with or regulate the alcohol industry, which uses far-reaching and influential lobbying tactics to discredit research, and litigation to derail the introduction of legislation.    
Opportunities to reduce alcohol consumption 
While there are challenges, there are also opportunities. There is a strong economic argument for policy interventions. The OECD show the economic benefits of policy measures with a return of $16 in every $1 invested. 
We have lots of learnings from other unhealthy commodity industries – such as the food and drink industry – using the 4 Ds: Delay, Divide, Deflect and Deny in our Building Momentum series on the design and implementation of policy, and advocacy strategies and efforts used to combat industry interference.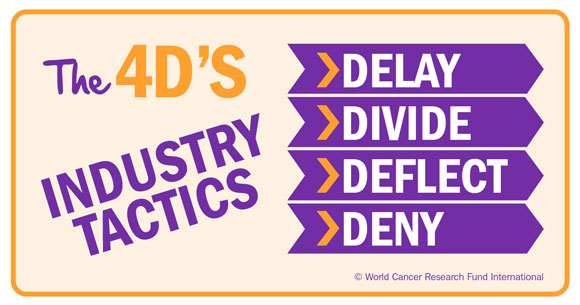 Furthermore, the body of evidence on policy effectiveness and cost-effectiveness is strengthening with more research and evaluation conducted on the policy measures currently in place, in the WHO NCD Best Buys and a series of WHO briefs published this year.    
Alcohol control policy such as minimum unit pricing can contribute to other policy agendas and reduce social and health inequalities, given the disproportionate impact of alcohol on lower socio-economic communities.  
Where do we go from here?
We will build our capacity, networks and influence in alcohol spheres and bring our nutrition policy experience to add value to the alcohol policy sphere. We'll work with other organisations to mobilise political will and lend our scientific knowledge and name to issues and campaigns that drive the reduction of alcohol consumption agenda. We will look at the evidence for alcohol policy and what are the most effective policy options. We will push for good governance and the removal of industry involvement in high-level processes to minimise conflict of interest.
We look forward to rolling up our sleeves and getting involved.