The science on how diet, nutrition, body weight and physical activity affect the risk of cancer is continually evolving. Our new programme of research, the Global Cancer Update Programme, moves our work into an innovative phase, with a more nuanced and focused approach that aims to fill in some of the gaps in our current knowledge, including health inequalities. The aim is to enable World Cancer Research Fund to provide specific recommendations for the prevention of different cancer types across the lifecourse, as well as recommendations for both adult and child cancer survivors.
Health and social inequalities and cancer prevention
The Global Cancer Update Programme will take a closer look at social and health inequalities as a key cross-cutting aspect of cancer prevention and survivorship. This is because social determinants of health have a significant impact on who is more likely to:
be aware of the risk factors associated with cancer
undertake behaviours that impact cancer risk
take part in cancer screening
Inequalities in all of these areas affect who is more likely to develop and die from preventable cancers.
We already know that 40% of cancers are preventable, and that the incidence and mortality of preventable cancers varies markedly in ways that are unfair, both between and within countries. In the UK there are around 20,000 extra cancer cases each year in the most deprived areas. People in these areas experience more exposure to risk factors – for example, cigarette smoking occurs at substantially higher rates among those living in deprived areas compared with wealthier ones. These communities are also more likely to be diagnosed with cancer at a later stage, and to experience more barriers in accessing cancer services.
These startling numbers are a representation of the unequal way risk factors and cancer outcomes are distributed at the population level. Rates of overweight and obesity – one of the most important risk factors for cancer – are increasing faster among those who are the most deprived (whether in the UK or other high-income countries), but have levelled off among those who are wealthier.
Not just biology that affects our health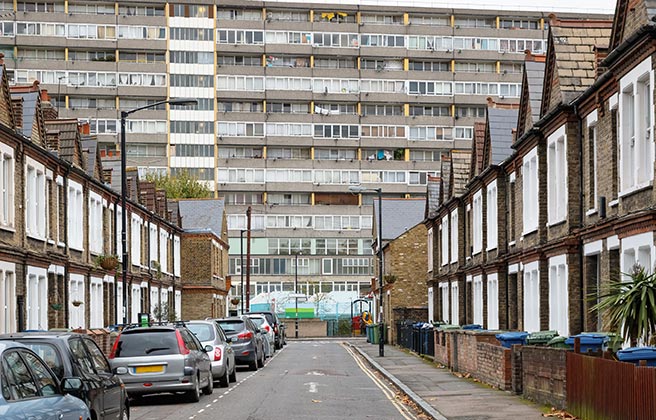 Because of this, our Cancer Prevention Recommendation to be a healthy weight must be understood in the context of the environment we live in, such as aspects of living in a deprived area that lead to overweight and obesity. Are heathy diets affordable? Are neighbourhoods more likely to allow for physical activity? Policy changes must focus on such questions to change the environments where people live, and tackle social and health inequalities. Only then can we effectively reduce the persistent inequalities in cancer within the UK and other countries.
Take another example from our Cancer Prevention Recommendations – eat a better diet. This seemingly personal choice will be shaped by wider social and economic circumstances – whether fruit and vegetables are available and affordable locally is often down to wider national and global markets. In the UK, data shows that only 780 people in a million maintain a diet that follows all the recommendations of the Eatwell Guide. At the same time, meeting the Eatwell recommendations is simply too expensive for the most deprived people in the UK, who are also more at risk of accessing lower levels of healthcare.
It is no wonder, then, that societal inequalities can explain poorer health outcomes. This is why they are called social determinants of health. It is not just biology that influences our health – in fact, evidence suggests that hereditary genes play a minor role in the development of most cancers. As Sir Michael Marmot stated in our recent launch webinar for Global Cancer Update Programme: "Don't blame the poor, blame poverty!"
To prevent cancer, address inequality
It is critical to engage with the risk factors that increase the chances of preventable cancer happening, and how policy can enable people to live healthier lives. We know there are no quick fixes or single solutions, and that governments need to act on the impact of the wider determinants of health – such as income, employment, education and housing, and address environmental risk factors for diet, nutrition, physical activity, body weight and alcohol.
At World Cancer Research Fund International, our policy tools such as the NOURISHING and MOVING frameworks and databases guide governments, civil society and the scientific community to take a comprehensive approach to policy change for cancer prevention. The aim is that we can work together to create environments that enable people to more readily follow our Cancer Prevention Recommendations and live healthier lives. It is important to remember that our Recommendations not only reduce an individual's risk of developing cancer but also other non-communicable diseases, including cardiovascular disease, which impact on long-term health.
We want to engage with leading experts in developing policy advice that enables healthy environmental changes targeting the people who need them the most. At the same time, we strive to avoid replicating work or inadvertently increasing existing inequalities. Such targeted approaches are likely to be needed as new scientific findings emerge from the Global Cancer Update Programme and elsewhere.
World Cancer Research Fund looks forward to playing our part, especially through the Global Cancer Update Programme, in undertaking and supporting science and policy that makes healthier choices the easier choices.
Read our blog series on health inequality and cancer
> Differences in cancer incidence and mortality across the globe
> World Cancer Day 2023: how we're working to prevent cancer worldwide